Locally, our economy has also made solid progress in 2017, and offshore support will help going into 2018.
Offshore markets finished 2017 on a high across a range of stock markets, commodities and business surveys around the world. The sharp rise in share values over the last quarter has been backed up by strong economic data in advanced economies and many emerging markets, with all the ingredients of a synchronised global upswing. Share markets are not necessarily a leading indicator of the economic outlook, but the ascent of the MSCI World Index of stocks (refer chart below) gives an insight into how constructive 2017 was for global markets, the index rising 20% over the year.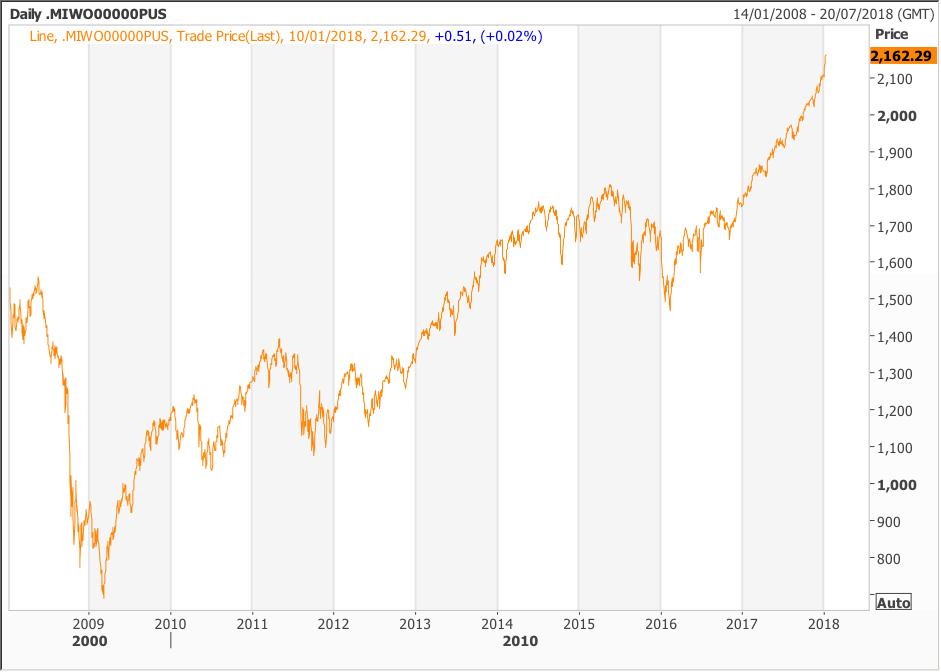 Source: Thomson Reuters
Another indicator of global economic health is the price of copper, being well correlated to growth and international trade volumes, including emerging markets: copper is trading above US$7 000 /t, a 60% rise from two years ago. United States stock markets have also hit new record highs through December and again in early January, despite US interest rates moving higher. The corporate tax cuts have accelerated their bull market, but equally the economic indicators show a robust US economy (before this fiscal stimulus kicks in)- strong jobs, housing, and retail sales data, and elevated manufacturing survey readings. The downside: the cycle appears quite 'mature', so it's a risky period for stocks, especially with tax cuts adding stimulus at the same time that rate hikes are trying to slow things down- but for now the bulls are in charge, and the world's largest economy is powering ahead.
Even the European Union appears to be in reasonable shape, with their manufacturing survey at its highest level since the survey began in 1997, factory 'new orders' at multi decade highs, and another fall in EU unemployment. Germany is leading the charge with strong industrial production growth, its highest level since 2011- taking the focus away from some of the weaker areas, and the March early elections in Italy, the EU's 4th largest economy, after the Italian parliament was dissolved last month. In other areas, UK data has been less consistent however this week the Bank of England restated their intention to continue to hike interest rates. Canada are also considering another lift in their official rates on January 17th after an optimistic business survey report, so there is a common theme globally.
Back to Southeast Asia, where the bulk of Australia's exports are sent, and Chinese economic data rounds out a strong report card for the larger economies at year end, with both services and manufacturing surveys showing expansion. This suggests the Chinese growth rate will remain safely above 6% in 2018. The fears of a sharp fall in the Iron Ore price due to lower winter Chinese steel production (on environmental concerns) have not materialised, with the trend to higher grade iron ore actually helping some Australian exporters. Iron Ore is trading close to US$80 per tonne, versus US$55 budgeted over 2017-18 in our recent Federal MYEFO update, so there is scope for a windfall.
Locally, our economy has also made solid progress in 2017, and offshore support will help going into 2018, but the challenge for the New Year is the lack of wages growth. The jobs market had a strong year with an increase of around 30 k jobs across Australia each month, pushing our unemployment rate down to 5.4%, but there is clearly still some slack in labour markets, because wages are stagnant. Here in Victoria the jobless rate is down to 5.7%, and in the City of Greater Bendigo the unemployment rate fell to 4.5%, however throughout Australia we have high 'underemployment', with many part time workers seeking more hours, which is keeping wages growth at historically low levels. This seems to be flowing through to low consumer spending, which was evident in the recent GDP growth figures, where Household Consumption was only up 0.1% for the September quarter.
Beyond slow wages growth, the local data is pretty healthy- business conditions and confidence are well above average (refer chart below) and interest rates are at record lows, encouraging businesses with capital expenditure and to take on more staff. One of the challenges for businesses recently has been in retail sales and soft consumer demand, however it was pleasing to see a 1.2% rise in November retail sales figures yesterday, making 2.9% growth for the year.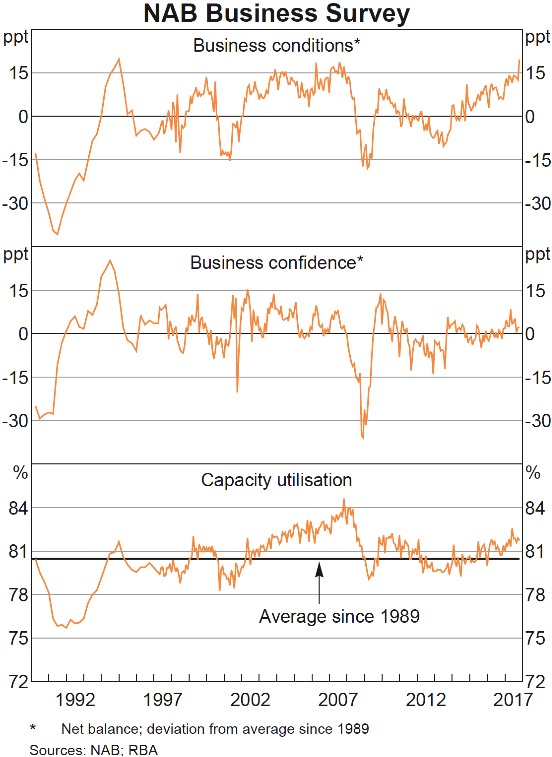 Housing price growth has levelled off, which in some capital cities is just what the regulator and our Reserve Bank were hoping for- 'macro prudential policy' targeting interest only loans for example has been effective, rather than putting up interest rates across the board to cool this market. In regional areas housing price increases were much less aggressive, and in the case of Greater Bendigo the median housing price was flat in 2017, but rose 3.5% on average for units.
For the year ahead, the outlook for jobs and business appears positive, based on last years' trends, and growth should be around 3%, as our Reserve Bank has forecast. For the RBA they face the challenging task of slowly exiting these record low interest rate settings as the economy recovers, helped by offshore markets, while making sure the housing market copes. The low level of wages growth means inflation is low, so that does buy the RBA some time in walking this fine line. The Aussie Dollar has been well behaved in a 75 to 81 cent range for the last six months, however should it break higher this may keep rates on hold for longer than would otherwise be the case.
Bendigo and Adelaide Bank Limited, ABN 11 068 049 178 AFSL / Australian Credit Licence 237879. Any advice provided on this article is of a general nature only and does not take into account your personal needs, objectives and financial circumstances. You should consider whether it is appropriate for your situation. Please read the applicable Disclosure Documents before acquiring any product related to this article.
This article is courtesy of David Robertson, Head of Economic and Market Research at Bendigo and Adelaide Bank. To attend David's next market outlook event, please click here for information regarding the 2018 State of the Market.
---