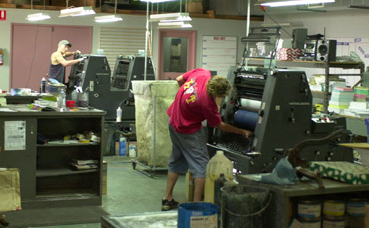 Member Bio
Bart'n Print
CALL – 03 5441 6600
location
18 Deborah Street Bendigo
website
email
The team at bART 'n' PRINt go far beyond the basic print services and are proud to offer cutting edge Graphic Design and most recently Web Page Design and Development. To delve further into these services from bART 'n' PRINt, make your selection from one of the links to the left.
b*print is where bARt 'n' PRINt brings client interaction to a new level. Clients of bARt 'n' PRINt have the ability to request their already designed art work to be reprinted 24 hours a day 7 days a week.
Bart 'n' Print got its name from its founder Steve Bright, known by his friends as Bartie. Steve was born in Bendigo and begun his working career in printing. After Steve's apprenticeship in compositing he furthered his career at the Bendigo Advertiser (Local Newspaper) and after six years, Steve started production for Bart 'n' Print from the back shed at his family home, equipped with three staff members, a Heidelberg platen and a GTO 52. Hard work and determination saw Steve move and expand to his first factory in View Street (CDB) Bendigo. View Street is where he operated the business for a further six years, expanding the establishment to incorporate the manufacturing of rubber stamps as well and letterpress and offset printing. View Street also witnessed the start of CAD (Computer Aided Design) with the Apple Macintosh computers used for page layouts.
The move from View Street to Deborah Street (current location) was an easy decision for Steve, as Bart 'n' Print's business was booming and required more floor space. Once Steve and the Bart 'n' Print team settled into the Deborah Street factory it was not long before changes had to be made, the demand of work was starting to require more staff and more equipment, this seen the introduction of another Heidelberg GTO 52, Heidelberg Cylinder and another Heidelberg Platen. With the introduction of the new machines floor space at the new factory was starting to be sort after property, resulting in Steve having to take over and purchase the adjoining factory. Not long after making a door way between the two adjoining factories the work load once again told Steve it was time for another machine. Another Heidelberg was the call, but this time it was a two colour perfecting GTO ZP 52 with the Kompac dampening system. The introduction of the image setter saw the old dark room become obsolete.
A huge step for the Bart 'n' Print team took part in the last few months of 2000. When central Victoria witnessed Bart 'n' Print adopting state of the art technology when Computer to Plate (CtP) was added to their artillery along with the addition of another new machine, this time it was multi-colour, a new Heidelberg SM52 5 colour, now with all this new equipment it was time for yet again another expansion, the third and final adjoining factory was taken over by Steve purely to house the SM52 and paper storage. Around the same time a Kompac system was added to the newest GTO 52 and it was time for Steve to say good-bye to the original GTO 52 that he started with some 25 years ago.
Today Bart 'n' Print have a work force of 13 full time and 4 casual staff, occupying 12,500 square feet of factory/ office space, home to a Heidelberg SpeedMaster 52, Heidelberg CtP plate processor, 2 tower – 20 bin Horizon collator, stich & trim machine, Heidelberg Cylinder, Heidelberg GTO 52, Heidelberg GTO ZP 52, Guillotine, Laser Engraver, Folder, Laminator, two Heidelberg Platens, a Hamada, 8 current model G4 Apple Macintosh Computers, 2 IBM personal computers, HP Laser Jet CMYK proof printer/ large format printer and many more computer based peripherals.
| | |
| --- | --- |
| | |
The various forms of work carried out by the Bart 'n' Print team varies from basic one colour business cards right through to multi colour, multi page financial reviews. Bart 'n' Print offer a huge range of different print styles, forms on a vast array of substrates. Bart 'n' Print's main production involves business cards, letterheads, with complements slips, DL flyers (2,3 or more fold), invoice books, receipt books, raffle tickets, envelopes (all sizes) and besides all the various printing jobs Bart 'n' Print also offer rubber stamps and laser engraving.