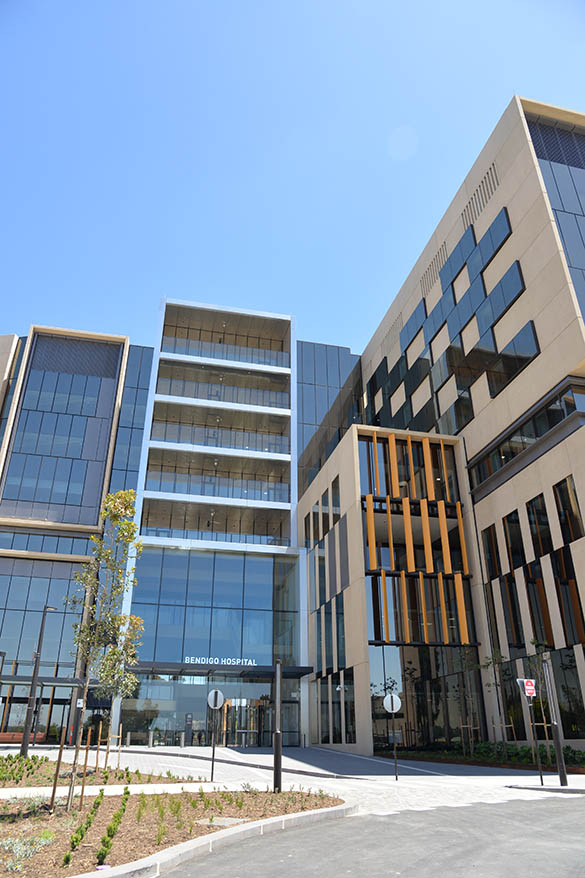 Member Bio
Bendigo Health
CALL – 03 5454 6000
location
100 Barnard Street, Bendigo
website
email
Bendigo Health services the Loddon Mallee region, which consists of 56,965 square kilometres or 26% of Victoria, with a population currently reported as 307,405. From Gisborne in the South, Echuca in the North, Kyabram in the North East and Mildura in the far North West, the region nestles amongst the State borders of Victoria, South Australia and New South Wales.
A proud history
Bendigo Health has a proud history and has been operating in Bendigo for more than 150 years. We have a culture of person centred care, the most important people are our patients.
Bendigo Hospital Project
The Bendigo Hospital Project is the largest regional hospital development in Victoria. It has delivered a world-class regional hospital incorporating the latest design and technology solutions, in a tranquil and caring environment.
The new facility features:
372 inpatient unit beds
72 same-day acute beds
An 80-bed integrated psychiatric inpatient unit, including a parent-infant unit
11 operating theatres
A helipad (Stage Two)
A regional integrated cancer centre
A multi-deck carpark (Stage Two)
A 100-place childcare centre (established in 2014)
A 128-room accommodation hotel (established in 2014)
An affordable accommodation hub with 15 short-stay units
A conference facility
Retail shops and cafes2017.
Construction of the new hospital began in 2013 and Stage One of the Bendigo Hospital Project opened on 24 January 2017.
Bendigo Health is a high quality regional health service
We provide health care across the entire lifespan from pre-natal and newborn babies to the aged, their families and carers. Services are provided through more than 40 locations across an area a quarter the size of Victoria.
Employment
We are the largest employer in the region. With a strong culture of education, Bendigo Health enjoys partnership with La Trobe University and Monash University, both of whom have rural schools on site.
With more than 3,400 staff and 280 volunteers working across a vast geographic region, Bendigo Health provides a full range of services including emergency, maternity, women's health, medical imaging, pathology, rehabilitation, community services, residential aged care, psychiatric care, community dental, hospice/palliative care, cardiology, cancer services and renal dialysis.
With a strong culture of education, Bendigo Health enjoys partnerships with La Trobe University and Monash University, both of which have rural schools on the Bendigo site.
In an average year Bendigo Health:
treats more than 41,000 inpatients
delivers more than 200,000 services to outpatients
performs more than 11,600 surgical procedures
triages more than 48,000 emergency attendances
welcomes more than 1,300 new born babies