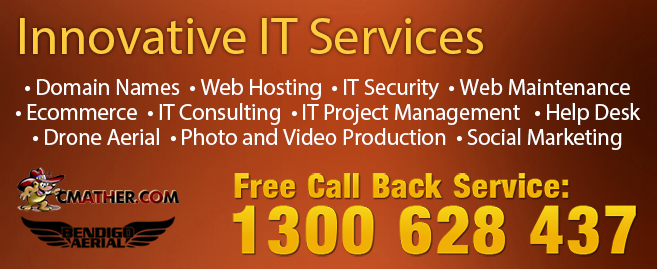 Member Bio
CMather Web Development
CALL – 0403205075
location
PO Box 547 Golden Square 3555
website
email
We offer low-cost local Bendigo web development, web design and drone aerial service throughout Australia.
CMather Web Development a local Bendigo Web Hosting and Development business offers Internet and Technology services to small businesses. We operate throughout Australia, US, UK and several other countries. We offer professional IT consultation and project management and work with some of the leading technology companies in the world.
Services that We Provide:
– Web Hosting (Business Class / VPN / Shared / CDN Networks)
– Web Development and Programming
– Website Design (Shopify Experts / WordPress)
– Freelancer and Scriptlance Network of Sites
– Partner with Google / Facebook / Twitter and YouTube Advertising
– Search Optimisation and Marketing
– Application Development / API's
– Drone Technology (CASA Certified Bendigo Aerial Services)
– Aerial photography, mapping and aerial cinematography
– Internet Security and Monitoring
– Website Maintenance / Support and Training
To accomplish our service delivery model, we operate several websites and entities throughout the world. To learn more, please contact us or visit our website.