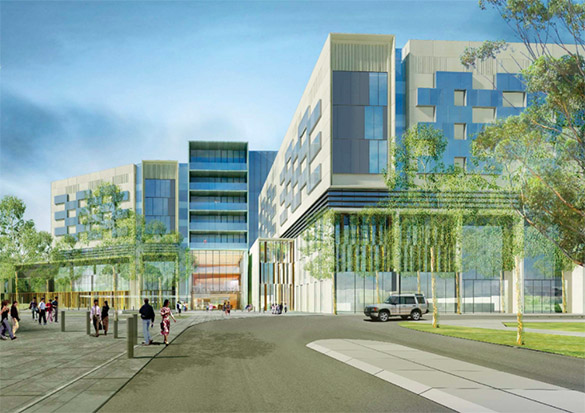 Member Bio
Exemplar Health
CALL – 03 9667 5600
location
Level 8, 136 Exhibition Street, Melbourne
website
email
Exemplar Health is the consortium that has been engaged by the Victorian State Government to design, build, finance and maintain the Bendigo Hospital Project.
The Exemplar Health consortium comprises four companies, each market leaders in their own field and with considerable experience in the delivery of healthcare facilities and services. As per below:
Capella Capital
Capella Capital is the project sponsor and financial adviser to Exemplar Health and delivers fully integrated infrastructure solutions. It does this by partnering with government and the private sector to fund, develop and manage essential community and economic infrastructure.
Capella Capital is a partnership between Lendlease and a team of senior industry executives with a substantial track record in the infrastructure sector, particularly in the delivery of PPP projects.
Members of the Capella team have been involved in the delivery of more than $12 billion of community and economic infrastructure. Through this, Capella Capital has gained unparalleled experience into the design and delivery of projects that transform cities.
https://www.capellacapital.com.au/
Lendlease
Lendlease is responsible for the design and construction of the hospital and related developments. Lendlease is also a provider of equity for the project.
Lendlease is responsible for the project management, design and construction of the Bendigo hospital. As one of the leading international property and infrastructure groups in the country, Lendlease has operated in Victoria for more than 50 years. Tens of thousands of Victorians live, work and play in the communities that Lendlease has created. Lend Lease's vision is to create the best places. Some of these great places include Victoria Harbour, one of the largest urban renewal projects in Australia which boasts the highest concentration of green buildings in one precinct. Lendlease has also delivered a number of significant social infrastructure projects including the new Royal Children's Hospital which is the largest hospital redevelopment to be undertaken by the Victorian State Government.
Spotless
Spotless Facility Services is the facility management provider responsible for maintaining the hospital for 25 years following completion.
The Spotless Group is an Australian owned, managed and operated provider of integrated facility management services. With operations across Australia and New Zealand, Spotless is proud of its heritage, knowledge and capabilities. The Group's 47,000 employees deliver 30 million service hours a year across hundreds of specialist services to industry sectors. Its size and scale gives it the flexibility, resources and financial strength to successfully partner with clients on major projects to deliver integrated, high quality and bespoke services.
Every year Spotless delivers more than 3.5 million hours of non-clinical support services to over 200 healthcare facilities in Australia and New Zealand. For the past 30 years, Spotless has focussed on driving productivity savings in the provision of non-clinical support services.  Commencing 2016, services delivered by Spotless at Bendigo Hospital Project will include catering, cleaning, portering, help desk, facility maintenance, grounds, waste, pest control, carpark, materials and security management. Each service is essential to the successful operations of the new facility.
Siemens
Siemens Project Ventures GmbH is the provider of equity for the project.
The Financial Services unit of Siemens (SFS) is an international provider of business-to-business financial solutions. The Project & Structured Finance Healthcare unit of SFS offers investment solutions ranging from advisory services to debt and equity capital. For the new Bendigo Hospital SFS is investing 50 percent of the equity and is participating in the senior debt.
With the financing of Bendigo Hospital SFS again demonstrates its expertise in providing innovative financing solutions for healthcare infrastructure globally, after already being part of the consortium for the Sunshine Coast University Hospital in 2012. Offering tailored financial packages, a sound understanding of hospital processes and latest cutting-edge technologies makes Siemens a preferred partner to the build of major healthcare facilities in Australia. Overall SFS participated in more than 20 international equity projects with a total volume of over USD 10 billion.
www.healthcare.siemens.com.au