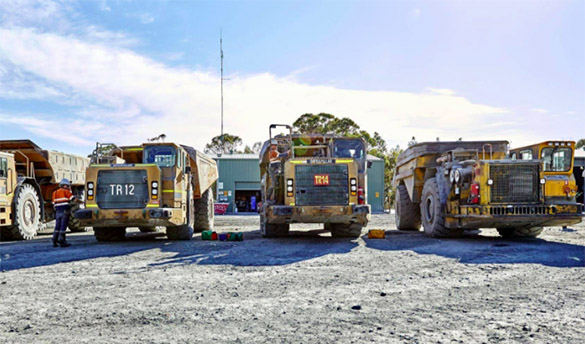 Member Bio
CALL – 03 5439 9000
location
McCormicks Road, Fosterville
website
email
Kirkland Lake Gold Ltd., is a new mid-tier gold producer targeting +500,000 ounces of gold per annum. Operations include the Macassa Mine Complex and the Taylor Mine in Ontario, Canada and the Fosterville Gold Mine in Victoria, Australia.
With Operations across Australia Producing more than 200,000 ounces annually. Fosterville Gold Mine is focused on maintaining predictable and sustainable levels of production. Delivering cost efficiencies to drive down operating costs throughout our business.
Gold was first discovered in the Fosterville area in 1894 with activity continuing until 1903 for a total of 28,000 ounces of production. Mining in this era was confined to near-surface oxide material.
Aside from a minor tailings retreatment in the 1930's, the field lay dormant until the 1988 when Bendigo Gold Associates again recommenced gold production at Fosterville from the reprocessing of tailings. By 1989 this program had come to an end and exploration for oxide resources commenced. The leases were then acquired by Brunswick who continued exploration and in 1991 started heap leaching ore derived from shallow oxide open pits. After six months of production, Brunswick went into receivership as a result of the failure of another operation. Perseverance bought the operation from the receivers and continued the oxide heap leach operations. Perseverance continued to produce between 25,000 ounces to 35,000 ounces per annum until the cessation of the oxide mining in 2001. Between 1988 and 2001, a total of 240,000 ounces of gold were poured (Roberts et al, 2003).
In 2001, Perseverance underwent a significant capitalization and the focus of the company changed to developing the sulphide resource. A feasibility study investigating a combined open pit and underground mining operation feeding 0.8Mtpa of sulphide ore to a BIOX® processing plant was completed in 2003. Work on the plant and open pit mining commenced in early 2004. Commercial sulphide hosted gold production commenced in April 2005 and up to the end of December 2011 had produced 580,643 ounces of gold. Underground development commenced in March 2006 with first production recorded in September 2006. The 500,000th ounce milestone of 'sulphide' gold production was achieved in April 2011.
The Fosterville area is flat to very gently undulating with a range of low, rolling hills about 2km to the west and the Campaspe River about 2km to the east. On MIN5404, natural surface elevations range from 150m to 185m above sea level (5150RL to 5185RL mine grid). Vegetation in the area ranges from native forest to established grazing pasture.
The FGM has ready access via two separate sealed roads and a variety of all weather un-sealed roads linking to regional highways. The regional centre of Bendigo is approximately 20km away and has a population of 95,000 people which provides a source of skilled labour. The area has a Mediterranean climate with hot, dry summers and cool winters.
The underground mine commenced declining in March 2006 with production first recorded in September 2006. Development and stoping have been conducted in the Phoenix, Lower Phoenix, Falcon, Ellesmere, Kink, Vulture, Raven, Robin and Harrier ore bodies since that time. As of January 1st 2015, work continued in the Phoenix, Lower Phoenix and Harrier ore bodies. All areas are planned to be extracted using open stoping techniques with the application of CRF where applicable and practical. Selection of the specific mining method within the open stoping regime is based upon previous experience at the Fosterville mine and expectations of ore zone geometry and geotechnical conditions.