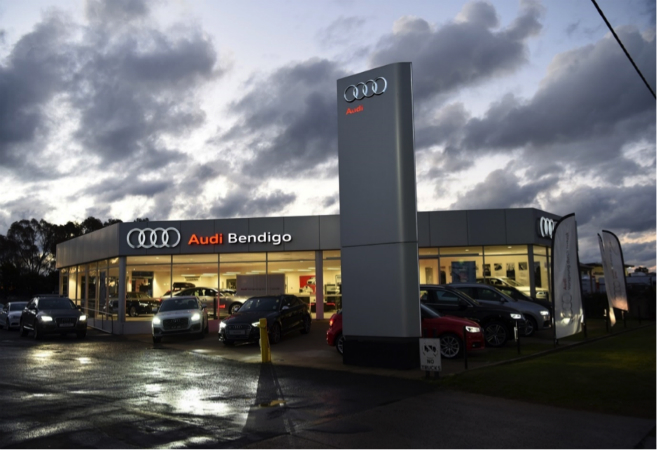 Member Bio
Audi Bendigo
CALL – 03 5443 1122
location
37 Midland Highway, Epsom VIC 3551
website
email
As one of the world's leading manufacturers of sophisticated and progressive cars, the Audi brand has been delighting customers throughout the world for more than 100 years. For generations, the four rings have stood for pioneering automotive concepts that offer a technical response to challenges. That's what we call 'Vorsprung durch Technik'.
It's no coincidence that we continue to expand this 'Vorsprung' – or lead – when it comes to our product portfolio, production sites and human resource development as well. Indeed, it is the result of a consistent corporate policy and brand philosophy. Around the world, more than 80,000 employees contribute their share to ensuring that people all over the world are delighted by the Audi brand.
Member-to-member Offer from Audi Bendigo:
As a Be.Bendigo member, your membership comes with many rewards. At Audi Bendigo, we are pleased to offer all Be.Bendigo members and their employee's an exciting offer – automatic eligibility to the Audi Corporate Program.
The Corporate Program offers you the following exclusive benefits when you purchase an Audi from Audi Bendigo:-
No cost, scheduled servicing for 3 years or 45,000km service (whichever occurs first).
Complimentary pick-up and drop-off of the vehicle for servicing (to a maximum of 20km from Audi Bendigo) when your Audi requires its scheduled service.
Loan car when your Audi is being serviced (subject to availability).
During August and September, when you purchase an Audi as a Be.Bendigo member, you will go into the draw to win an Audi Advanced Driving Experience at Sandown Raceway on October 23rd, 2017 (valued at $999).