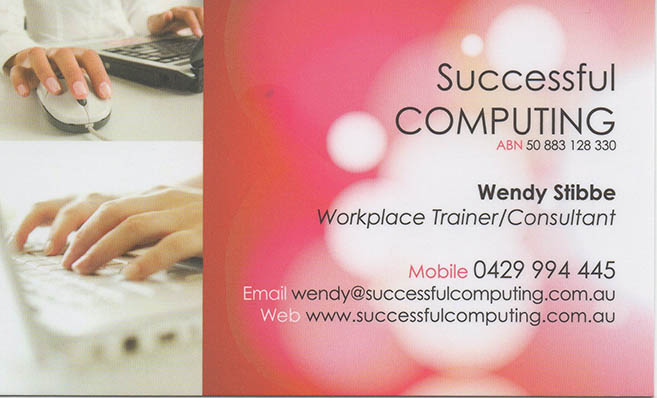 Member Bio
Successful Computing
CALL – 0429994445
Customised Computer Training
Providing quality local computer training in Bendigo, surrounds and Melbourne.
Successful Computing was established in 1994 in Melbourne providing quality and professional computer training direct to business. Wendy Stibbe, the principal trainer, has been working as a Workplace Trainer since 1990. Training is primarily on Microsoft Office products, such as Word, Excel, Outlook, PowerPoint, Publisher and Windows, but training on specific customised software can also be done.
The business has been established in Bendigo since 2006 and attracts a considerable amount of local work.
What Successful Computing offers is to come into your place of business and conduct computer training on site for your staff. Training can be conducted on a one on one basis at the delegate's workstation or in a group session. Seminars can also be arranged and have proven to be a successful forum for a large number of staff.
I pride myself on the quality of training that I deliver but also the way that each session can be customised to suit the clients needs.
No one mould fits all!