Brought to you by Bendigo TAFE Tomorrow Bound is an education, employment and training careers expo with a focus on providing secondary school students and the local community with the opportunity to discover the range of courses, pathways, employment and career opportunities available throughout the greater Bendigo region.
The expo was developed after secondary schools and community members identified a gap in the market for a locally held event that provided education and careers information
WHY YOUR ORGANISATION SHOULD EXHIBIT
Exhibitors will include TAFEs, universities, registered training organisations (RTO), employment and support agencies, local businesses, industry associations and employers.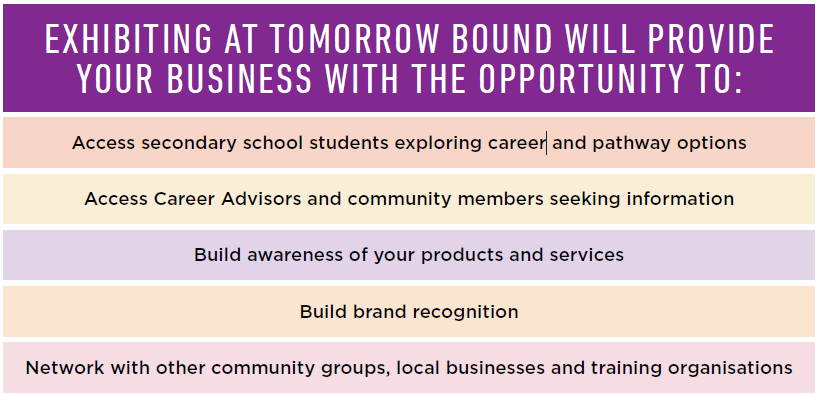 WHY YOUR ORGANISATION SHOULD SPONSOR
A sponsorship package is a great way for your organisation to make the most out of their time at Tomorrow Bound.
More information
For more information on exhibiting or sponsoring Tomorrow Bound, please contact the Tomorrow Bound Events Team.
Rayen Molina: 0466 354 216
Katherine McGowan: 0481 012 778
Visit our website www.tomorrowboundcareerexpo.com.au
---