Looking for businesses to participate in the Community Solar Rooftop Project. Will you help donate a solar panel to a local organisation?
Dear Be.Bendigo Members
As you may be aware the Bendigo Sustainability Group (BSG) is hosting the Community Power Hub (CPH) Bendigo program, which is about initiating community owned renewable energy projects. One of our main areas of focus is to establish community owned solar PV projects on local businesses, community buildings, schools and social / low income housing.
We have over the past 12 months been working with more than 80 Bendigo Manufacturing Group members, Be.Bendigo members and community organisations about the opportunities for solar energy, demand management, energy storage and also potential community owned renewable energy systems on their premises for local financial, jobs and other benefits.
Approximately $150 million is spent purchasing electricity each year by households and businesses in Bendigo. Our goal is to create local jobs whilst keeping more of this money in
Bendigo for local benefit whilst also reducing impacts on the environment.
We are currently developing a number of financial models for our Community Solar Rooftop (CSR) projects including donation and investment models. Our investment model should be ready for its first projects in coming months.
Donation Projects Ready for Investment
Two Donation projects have been open for community funding since 31 May. The financial savings from these projects will flow directly to the not-for-profit organisations and also the low income housing residents tenanting the applicable buildings as well as contributing towards more community owned renewable energy projects in Bendigo and Central Victoria. These projects are:
30 kW Community Housing (Victoria) Limited – 8 x Units in Golden Square
30 kW Bendigo – Eaglehawk Badminton and Table Tennis Stadium
It is expected that approximately $30,000 for each site will be required to be raised for the solar PV systems and monitoring equipment including a small contribution to the BSG to assist to establish and deliver the project. Three local solar PV companies were invited to submit tenders for these works and submissions have been received.
Please find brochures for each of the sites and further information available at https://www.bsg.org.au/community-solar-rooftop-projects-summary/
The BSG has a positive track record having completed four community owned solar PV systems since 2015 on the Bendigo Goldfields Library, Bendigo Tramways Depot, Bendigo Discovery Science and Technology Centre and the Bendigo Regional Archive Centre – 110 kW in total.
Fundraising Status and Request for Support
Below is the current status of fundraising: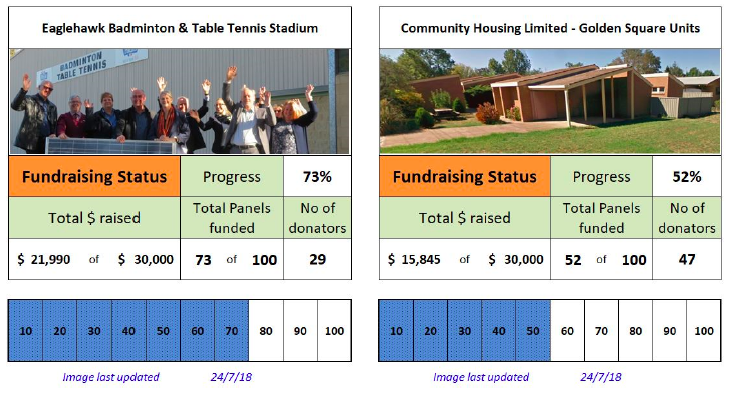 We are seeking donations of $300 per panel which includes the costs of inverter, monitoring and installation.
We are intending to cease calling for donations on 31 July 2018 so we can wrap up the projects and focus on our much larger and even greater impacting investment projects. However we would be able to accept final donations through the first week in August.
For more information and/or to support these projects please go to the link below, click on the relevant project and click the DONATE NOW button. Various payment options are available.
All donations for these projects are tax deductible through the Bendigo Sustainability Group's Sustain Bendigo Fund. The Sustain Bendigo Fund (ABN 92 157 965 158) is endorsed by the Australian Taxation Office as an Income Tax Exempt Charity (ITEC) with Deductible Gift Recipient (DGR) status.
Fundraising Campaign and Promotion of Donations
The fundraising investment campaign was officially and publicly launched by Maree Edwards on delegation of the Minister for Energy, Environment and Climate Change, Lily DÁmbrosio on 31 May 2018. We presently believe that the Minister will return to Bendigo late August including to officially open our projects and we would truly love to have had both projects 100% funded.
We are so close and now in sight of the finishing line. Can you please help us?
A high profile public media and social media campaign has been underway and will continue for the next 7 days. Our CPH Bendigo Facebook page (https://www.facebook.com/bendcph/) posts have during July over 26,000 people and over 2,600 people have engaged with and/or acted upon the posts. Donators are being publicly acknowledged via social media, our website and/or e-mail newsletter if they wish. The BSG and the Community Power Hub Bendigo are working, with other partners, to successfully promote Bendigo and Central Victoria as a community owned renewable energy centre of excellence.
We would love support from the Be.Bendigo member companies via donation one or more panels to either or both projects. At present a total of 65 solar panels remain to be funded.
However we would encourage flexible support for either project so that we can allocate at our discretion to get both projects across the line.
If you have any queries or would like to discuss further please do not hesitate to contact the
undersigned on the details below or Colin Lambie (colinl@bsg.org.au / 0417 561 903).
Yours sincerely,
Chris Corr
Project Manager, Community Power Hub Bendigo
Vice President
Bendigo Sustainability Group
chrisc@bsg.org.au
0427 148 270
---