Business, government pitch to feds on Smart Cities.
A contingent of Bendigo business and public sector leaders are in Canberra this week pitching for a Smart Cities deal they say will transform their central Victorian hometown for future generations.
Bendigo Business Council chief executive officer Leah Sertori, whose organisation is spearheading the bid for government support, said she and her colleagues would meet with eight ministers and chiefs of staff, asking for $4 million over the next two years to fund their Smarter Bendigo proposal.
The plan aims to attract more investment in Bendigo infrastructure as well as position the regional city as the country's most innovative.
Regional locations Townsville, Western Sydney and Launceston have already secured government support for similar projects.
The process was "hotly contested", Ms Sertori said, but she believed the Bendigo bid was unique for its model of shared investment.
The bid proposes establishing a Bendigo bond to attract superannuation funds that could help build large, infrastructure projects.
The deal also has the endorsement of Victorian premier Daniel Andrews, who has a written a letter of support that Bendigo representatives will present to government figureheads.
The premier's approval follows the endorsement of the previous Bendigo council who signed on to support the bid at a meeting last July.
Ms Sertori said she expected to receive some immediate indication from ministers about the likelihood of a Bendigo deal being signed but steps were already in place to make the plan a reality.
A three-day hackathon – an event in which teams of participants devise digital solutions to contemporary social problems – is scheduled for April and a literacy initiative hoping to raise the reading level of Bendigo's next generation is already giving books to the families of young children.
Birchgrove Property managing director Damien Tangey, Coliban Water innovation manager Jon Anstey and Community Sector Banking CEO Andrew Cairns are also among the envoys to Canberra, as is City of Greater Bendigo strategy manager Trevor Budge.
Mr Tangey said the a Smarter Bendigo would give his children the chance of a better future.
"It would look like an environment where they can have a greater opportunity at employment in a regional area," he said, explaining young people once attracted off-shore could be convinced to stay in Bendigo if the city's capacity for employment and technology improved.
Among the technological advances put forward in the Smarter Bendigo proposal is a data hub that would allow organisations to share information with one another and better understand how the city functions.
Mr Tangey said findings form the data would decide the direction of the project.
"The outcome isn't a pre-determined one."
This article is courtesy of the Bendigo Advertiser www.bendigoadvertiser.com.au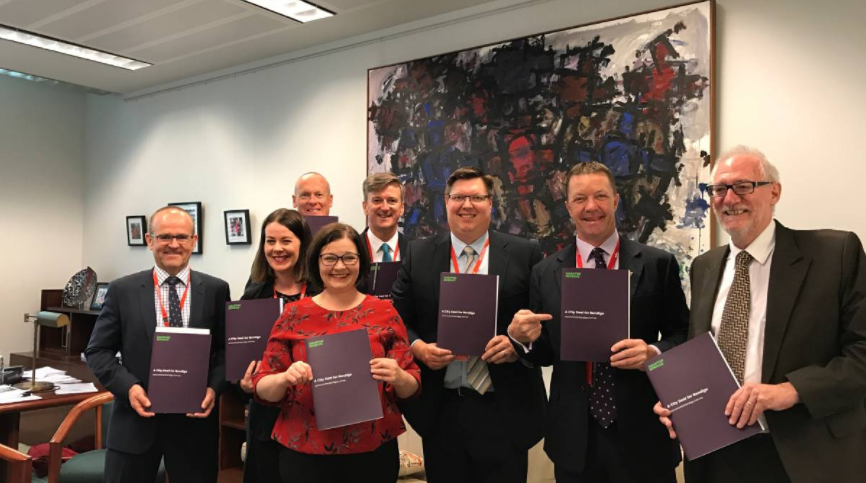 ---